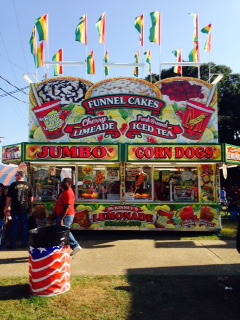 McKinney Food Services, a family-owned business, was founded in the early 1920s by my grandfather, D. J. McKinney. What started as a small, one-man operation has grown into a business operated by my father, my brothers, and me. I am Ron McKinney. My wife, Peyton, and I have operated our branch of the business since 1991.
Our business offers a variety of products. We are best known for our Texas-sized corndogs made from our original recipe for batter and franks. We use our own recipe for funnel cakes as well. Another specialty, fresh-squeezed lemonade, is made from fresh lemons and blended to a classic, sweet, lemony taste.
Our staff is certified with the National Registry of Food Safety Professionals Organization which allows us to meet any health department's most exacting standards. We believe in a very clean and customer friendly operation.